Welcome
Golden Circle Retreats aims to take you on a journey deep inside yourself, out of your head and into your body. We meet in nature, where your senses will be saturated with unparalleled beauty, and combine nourishing, plant-rich meals, inspiring cooking classes and nutrition workshops, with movement and mindfulness. Our week-long experience will bring relaxation and vibrancy to all levels of your being.

Rediscover the joy of being in your body, connect with your food, and find the inspiration to ignite you on your own health journey.
We look forward to meeting you in Quimixto, Mexico at our January 2024 retreats!
In love and light, Sarah B and Mikkala
The Retreat
This 6-day revitalizing retreat will restore your balance, cultivate inner peace, and nourish your body from the inside out. Learn to take care of yourself on a deeper level, and feel empowered moving forward knowing what optimal wellbeing looks like in your life beyond our week together.
We start each day with a centering physical practice, led by Mikkala Mariyln Kissi of Living Yolates and an intimate cooking class or nutrition workshop with Sarah Britton of My New Roots. After lunch there is free time to enjoy a dip in the oceanside pool, take a restorative walk in the jungle or on the beach, paddle a kayak along the shore, snorkel in the crystal clear waters, take a surf lesson, visit the spa for a relaxing treatment, or simply rest in your beautiful room. Enjoy a late afternoon restorative yoga class, designed to ground and relax you. Dinners are slow and delicious, often evolving into long conversations between new friends, beach hangouts, bonfires, and star gazing.
Join Sarah and Mikkala for this once-in-a-lifetime opportunity in paradise to connect with yourself and like-minded womxn from all over the world, indulge in the most delicious, high-vibrational food, move your body in joy, and reconnect to the rhythm of nature on a magical jungle beach in Mexico! Let's go!
Sample Schedule
8 – 10 am | Energizing Living Yolates Practice
10 – 11 am | Breakfast
11:00 – 1:30 pm | Cooking Class or Wellness Workshop
1:30 – 2:30 pm | Lunch
4:30 – 6:30 pm | Restorative Yolates and Breathwork Practice
7 – 8 pm | Dinner
The Retreat Package
From when you land in Puerto Vallarta everything is taken care of…
Transportation to and from the airport
Boat transportation to and from Xinalani
6 nights accommodation in a room of your choosing
3 fresh, vegan / vegetarian meals per day, including snacks, tea and coffee
Access to our retreat venue's amenities including spa, oceanside pool, kayaks and paddle boards, masks and snorkels
3 My New Roots cooking classes
3 My New Roots nutrition lectures / workshops
10 Living Yolates Classes
Golden Circle Retreat cookbook and lifestyle guide
Golden Circle Retreat goodie bag filled with surprises 🙂
Xinalani hospitality gratuities
What people say
The Golden Circle Retreat I attended in January of 2020 changed my life. It put into motion a strong and balanced headspace, which enabled me to thrive during two years of a pandemic AND realize that the love of my life was right under my nose! I'm forever grateful for Sarah + Mikkala's wisdom and encouragement, which kickstarted this beautiful evolution.

Emma, USA
"The wellness workshops were so interesting! I felt like I could have sat and listened all day – Sarah is a wonderful teacher and she inspires you with her love of whole food."

Sophie, England
"My posture has changed, the lines in my face have changed, my whole perception has changed. There are not a lot of retreats out there, besides this one, that have such a holistic approach to health."

Sandra, Australia
Xinalani is set on a sprawling, pristine and private beach, beside a jungle of breathtaking natural beauty. Small trails and stairs lead through the greenery to the accommodation nestled between the trees, each overlooking the sea. The location is as spectacular as the view: Xinalani is only accessible by a boat ride and you will literally be dropped off on the beach! Be ready for a bit of adventure before you nestle into your room, and listen to the sounds of the sea and the jungle.

As one of the foremost world-class yoga retreat centers in Mexico, Xinalani offers stunning, open-air studios, each with a view of the jungle and ocean below. As a wellness resort, they provide an extraordinary setting to all who are dedicated to spiritual transformation and personal growth.

Go to Rooms and Rates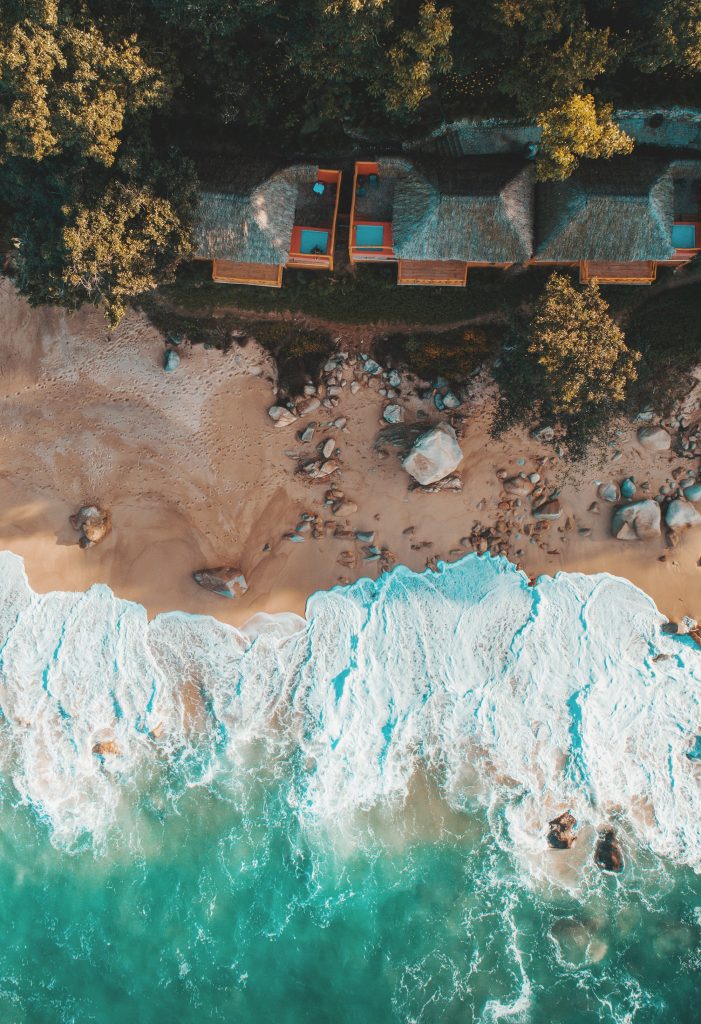 This venue is an eco-resort where great efforts have been made to minimize environmental impact both when constructing the buildings, and by using low-impact materials, low consumption light bulbs, water recycling, natural biodegradable cleaning products and composting kitchen waste.
Xinalani is located just South of Puerto Vallarta, which is 3 hours and 15 minutes on a direct flight from Los Angeles, US.

Go to Rooms and Rates
Sarah's Classes
Holistic Nutritionist, whole-food chef, and founder of My New Roots, Sarah Britton offers a comprehensive lifestyle program which covers both basics, and deeper nutrition topics with workshops and hands-on teachings. Her passion for living a healthy life shines through in everything she shares, from plant-based recipes to DIY skincare, holistic habits, and how to nourish ourselves inside the kitchen and out!
Sarah is a passionate educator, and loves teaching in person. This retreat will offer intimate, participatory cooking classes, featuring all plant-based and gluten-free recipes, where you'll get to be involved, taste test, and ask questions.
The holistic wellness workshops will help you understand the inner workings of your body, with hands-on skills and practices that will delight and inspire you, well beyond your week together. Sarah's classes are energetic and fun, as she loves sharing her knowledge of holistic health, and helping people truly find joy in their own wellness practices.
Mikkala's Classes
Mikkala Marilyn Kissi, founder of Living Yolates, has training in professional dance, yoga and pilates instruction, certified nutrition therapy, kinesiology and more. Mikkala's holistic training method combines the best of yoga, pilates, dance, meditation and energy work, all inspired by the wonder of nature's rhythms and cycles.
Full of vitality, bursting forth with energy and softness, Mikkala has a keen understanding of balance within the body, mind, and spirit and leads her classes with nothing but pure joy and love. Movement, meditation, breath work, and restoration during Mikkala's sessions will revitalize you from the inside out. Mikkala believes that you are your greatest teacher, your life's creator, and by tapping into this power you will be able to live more from a place of trust, intuition, and celebration.
The Food
The week's menu will be prepared by Xinalani's own chef in collaboration with Sarah Britton, using local, whole food ingredients – think My New Roots meets Mexico! Sarah loves working with the skilled and knowledgeable kitchen staff at Xinalani, as she always learns so much from their traditional ways of preparing food.
Sarah's approach to cooking is creative, fresh and vibrant, and her passion is bringing out the natural flavours in the ingredients she chooses, while preserving their precious nutrients. She finds a great deal of inspiration through travel, and humbly learning from other cultures and kitchens. Her many trips to Mexico over the years have been no exception, and she looks forward to sharing some of her most-loved recipes with you.
All food and non-alcoholic drinks are included during your stay*, and each meal at the retreat is a true celebration! Meals are served buffet and family-style, offering something for every taste. Fresh, real, and delicious, the menu will follow Sarah's principles, use plant-based ingredients, with plenty of raw and gluten-free options to suit all dietary needs (chicken and fish are also available). Local, and organic ingredients will be used whenever possible.
Accommodation
All of the rooms at Xinalani have spectacular ocean views. Most of them are located high on the mountain and they are open-air, spacious and palm-thatched roofed. They were designed with love, and built and furnished by local artisans.
For this retreat we offer beautiful single rooms with ensuite bathrooms, double rooms with ensuite bathrooms (two separate beds) and a four-person dorm option to try to accommodate preferences and financial considerations. All beds are covered with mosquito netting to protect you from insects at night. All rooms have a private terrace, hammock, sitting zen area, private bathroom and closet. Local laundry service is offered at additional cost.

Go to Rooms and Rates
Things to note
Xinalani Retreat is only accessible by boat, and once you've arrived, there isn't anywhere else "to go". The wi-fi is inconsistent, as the remote location means that telecommunication is unreliable. We encourage you to disconnect and embrace wifi as a rare bonus, not a necessity.
While the rooms are very comfortable, your stay at Xinalani is much like living outdoors for a week. Your room will have a door with a lock but only three walls—the terrace is open to its jungle surroundings and can not be shut completely. While it does have curtains, it's still open air.
There are a lot of stairs, as the retreat is built on a steep hill. There is an elevation of 215 ft (65 meters) from the beach to the highest point on the property. Please take this into consideration if you have had knee surgery, a hip replacement, a sprained ankle, or if you hate a good butt workout!
Health Considerations
Mexico currently (2023) does not require testing or vaccination to enter. For your country's requirements for travel, please use this resource shared by our retreat planning partners, Wassermann Retreats. This is the link above: https://apply.joinsherpa.com/travel-restrictions
Xinalani's staff is in the process of fully vaccinating and will be by the time our retreat takes place. Please note that there will be other retreat groups at Xinalani at the same time as our group and we will not know their vaccination status.
Personal beliefs aside, considering the state of the current climate as we plan this retreat, and considering the optimal health, wellbeing, and safety of ALL that attend this international retreat we ask that you have taken all precautions to boost your health.
As a group we will trust each other to have taken the proper steps to support their physical, mental, and emotional wellbeing before the retreat. This includes supporting your body with nutrient-dense foods, proper rest, time outside, adequate hydration, movement, stress reduction, and are coming in full health. We are gathering as a group from around the world, we will be in close quarters and shared spaces – this is our best way of ensuring a successful, healthful, rich and vibrant retreat. We will not be asking for proof of vaccination and we ask humbly this not be a divisive or political topic of discussion before, during, or after the retreat. We believe in health, we believe in people, and we believe in doing the best for ourselves and for those around us. Thank you in advance for respecting this policy for our 2024 retreats.
Rooms and Rates
Dates:
Week 1: January 20 – January 26, 2024
Week 2: January 28 – February 3, 2024
Accommodation options:
Deluxe Room with AC (1 king bed)
Single
$4300 USD
Deluxe Room (1 king bed)
Single
$4000 USD

Eco Chic Suite (2 full beds)
Shared
$3700 USD

Deluxe Room with AC (2 twin beds)
Shared
$3200 USD
Deluxe Room (2 twin beds)
Shared
$2900 USD

Small Palapa (4 single beds)
Shared
$2500 USD

(all prices are in USD)
Payment Terms & Conditions
A Non-refundable deposit of $600 USD is required at time of booking.
Final payments are due November 3 and 10, 2023 and are 100% non-refundable from final payment date to departure date.
Airfare is not included.
Ready to join?
Bookings for this retreat are handled via email to our travel coordinator Wassermann Retreats.

Notification list for 2024 retreat is now open!

Click below to contact our travel coordinator, Cathy and her team to get on the list for 2024 Golden Circle Retreats.
(clicking above opens an email window)
Retreat Details
In order to create an intimate and relaxing atmosphere this retreat is for womxn only and each week is limited to 18 participants.

Our retreats respect and honour where you are right now in your health journey. The classes and workshops are for womxn of any culinary skill level and any physical condition. We welcome everyone with open arms. Please write to us with anything we may need preparation for in order to make your retreat as comfortable as possible!

Prices are per person. A separate booking must be made for each person in a group, please note in the comment box if you wish to share a room with a friend or relative. If not, you will share it with a friend you haven't met 🙂

All bookings are final with no refund. We require a $600 USD deposit at sign up which is non-refundable. The remaining balance of your retreat price will be due 75 days before the retreat, in November. There is no refund after the balance is paid.

In case of illness or force majeure we will do our best to find a solution/have another participant take the space and trip insurance is available through our retreat planning company, Wassermann Retreats. It is possible to give your space to a friend, just inform us at least 1 week before the retreat takes place via email info@goldencircleretreats.com.

Flights to Puerto Vallarta, Mexico are not included.

Spa treatments, alcoholic beverages, bar snacks, and excursions outside of the venue are not included.

When signing up for a retreat you agree to our general terms and conditions. Got any questions? Please write us an email at info@goldencircleretreats.com

Location: Puerto Vallarta, Mexico
Venue: Xinalani Eco Resort Hotel
Check-in: 2 – 3pm.
Check-out: 11am.

Please note: early check in is not possible. If your flights do not match our check in time, we recommend staying a night in Puerto Vallarta. Late check in is not possible because the boat does not go to Xinalani in the evening.

Getting there:
You get to Xinalani by boat!
Your transfer from the Puerto Vallarta airport to Xinalani is included in the ticket. Please know that you must arrive into Puerto Vallarta no later than 4p local time on arrival day and must schedule your flight no earlier than 11a on the day of departure. Any accomodations in Puerto Vallarta to make these boat transfers are the retreat participants responsibility.
The Xinalani transfer service includes (included in your retreat price):
– Transfer by taxi or van from the airport to the pier at Marina Vallarta or Boca de Tomatlan.
– Transfer by boat from the pier to Xinalani.

The boat ride from the Marina Vallarta Pier to Xinalani takes 45 minutes. You will get your feet wet when you hop off the boat and walk onto the private beach. There are no roads leading to Xinalani. We think it's a fun part of the journey but if you absolutely do not like being on the water then we recommend joining a future retreat instead.
Read more here: Xinalani location and flights

Questions?
Contact us with questions about the classes and retreat programming at info@goldencircleretreats.com
For booking, payments etc, please contact our travel partner Cathy Wassermann from Wassermann Retreats:
Phone: +1 905.873.2000 ext. 1232 (Toronto, Canada time zone)
cathy.wassermann@visiontravel.ca

www.wassermannretreats.com
An affiliate of Vision Travel Solutions, 328 Guelph Street, Georgetown, ON L7G 4B5, Canada
TICO50018498
Get a feel for the retreat experience on our instagram